Daniel Agger Sends Us to Athens!
SEASON SUMMARY
The 2006-2007 season was about the Champions League and yet another 3rd place finish… yet it was clear that something was missing in this squad. Never has 3rd place looked so much like 10th. Away from Anfield Liverpool were absolutely dreadful, not scoring a goal or picking up a win until a visit to Wigan Athletic in DECEMBER! New signings took a while to gel, several of which never gelled, yet this club managed to reach yet another Champions League final. It was as if Rafa had discovered how to make the league OR Europe work for him, but not both. In this case, it was the first major setback season for Rafa, but it was a season that had many fond memories, as well.
Who could ever forget that exciting 2-1 win at the Nou Camp when "karaoke buddies" John Arne Riise and Craig Bellamy happened to be the goalscorers? Or when Peter Crouch netted a hat-trick against Arsenal? And then there was the second semifinal victory over Chelsea in the Champions League! There were spectacular strikes in 2006-2007, as well, with John Arne Riise and Daniel Agger scoring some beauties with the left foot, Peter Crouch doing his best Lance Armstrong impersonation (get on your bike, son!) and of course Steven Gerrard chipped in with a thunderbolt or two. Oh yeah, and what about Xabi Alonso's 60 yard bomb against Newcastle? Fantastic.
The season was full of let downs, unfortunately, with a slower than molasses start being the real issue. The 3-0 loss  to Everton and a 2-0 loss at Bolton being the real caps to a miserable start, and then to add to the misery, we lost 0-2 at Manchester United and THREE-nil at the Emirates to Arsenal. The second half of the season would be a renaissance of sorts, but by then the damage had already been done. It was a season that introduced us to Dirk Kuyt, Javier Mascherano, and Alvaro Arbeloa… all of whom would end up being success stories at the club. On a personal level (two years later, as it turned out), Fabio Aurelio's achilles injury was a real blow and something that would later inspire me as I suffered a similar injury. For that, Fab will always be one of my favorite Liverpool players.
Heartbreak in Athens in the Champions League final against AC Milan (a 2-1 defeat) would end the season, but fortunately there were some signs that things would get better. That said, there were some signs by that point that our ownership group that took over mid-season was not so rosy… a trend that would greatly affect 2007-2008.
TOP 5 MOMENTS
5) The Champions League Final

Losing finals was not really in my vocabulary as a Liverpool supporter, but it was still a great experience. Seeing my boys in red play in such a massive encounter was brilliant, even if we did lose 2-1.
4) Alonso scores from 60 yards.

Dispossessing the ball behind midfield, Alonso took a few touches and thought "what the hell" and struck from 60 yards. A slipping Harper was totally helpless, and the ball sailed over him, hit the ground right around the goal-line and in. Had Harper not slipped, Alonso still would have scored and neutrals would have given him a lot more credit. BRILLIANT goal, and what a memory that one was!
3) Right foot, header, left foot… Crouch's perfect hat-trick sinks Arsenal 4-1 @ Anfield.

A match for the ages, that's for sure. It was an excellent performance put forth by Crouch against the Gunners at Anfield. Level on points- or very close to level- coming into the match, Liverpool met Arsenal at a time where both sides were performing quite well, but Liverpool were starting to dip in form a little bit. For a side known for their beautiful football, Arsenal were on the wrong side of a "beautiful" performance. It all began four minutes in, as an incredible set of backheel passes from Arbeloa and Pennant led to the former sliding in a fantastic cross to Crouch, who only had to nick it in. Following that, Fabio Aurelio's DELICIOUS cross found the head of Crouch, who lept brilliantly to knock it in from 12 yards. Two nil became three nil on a free kick when Aurelio's once-again-brilliant ball was flicked in by the head of Daniel Agger. Though Gallas pulled one back, Peter Crouch saved the best for last as he did a Cruyff and bamboozled the Arsenal defenders, neatly tucking the ball into the upper corner from 8 yards out with his left foot. Definitely a match I'll never forget, not only for the hat-trick and performance, but because I was in a bar PACKED with Liverpool supporters going totally bananas!
Crouch Bags an Incredible Hat-Trick Over the Arse
2) Karaoke Incident + "Guess Who Scored" = Liverpool 2, Barcelona 1 in Spain.

In perhaps one of the most strange incidents in the world of football, Liverpool found themselves with one of the most ironic and coincidental scorelines against Barcelona… the reigning Champions League winners. The night, or a few nights, before this crucial match, fiery Craig Bellamy had taken a swing at John Arne Riise with a golf club! Why? Because he refused to partake in a team bonding experience of karaoke, of course! This, naturally, made all the news. As destiny would have it, Bellamy and Riise would be the goalscorers in a memorable upset at the Nou Camp, with Bellamy setting up Riise for the winning goal, and Bellamy himself celebrating his first goal with an imaginary swing of a club. Not only was this a fantastic result, but it was one that was written in the stars. Nobody could write a script like this… not even Dream Team!
1) Champions League Final, Here We Come! Penalties Take us to Athens Over Chelsea!

Much like in 2004-2005, we did not deserve to make it to the Champions League Final based on who we had in the squad. Chelsea were definitely the better side. But that's not what is important in the beautiful game. It is all about results, and in this case, our result was once again the better one. Losing 1-0 at Chelsea, we needed to win at Anfield and hope for either two goals better than the Blues or keep it at 1-0 and go for penalties. Daniel Agger's early strike in the first half gave us hope, and we indeed held on until penalties. With Reina in goal, there was always a good chance we'd do well. Zenden was the first to take one, and he buried it… his last meaningful contribution to the club. Reina proceded to save Robben's penalty, and it was truly game-on. Alonso sunk his, Lampard replied, but then Gerrard put the pressure on Chelsea by making it 3-1. If Geremi missed, then all we'd have to do is make one more… and that is exactly what happened. Reina saved it, went totally ape, and Kuyt stepped up to cap off a memorable victory. He scored, the pens were 4-1, and we were off to Athens! Glorious stuff.
TOP 10 BEST GOALS
10) Gerrard @ Charlton

The score was 2-0, so it was already wrapped up, but Gerrard scored a less-than-typical strike in this match to give a routine match a bit more spice to it. Gerrard's goals are usually power-driven, but this one was about finesse and a bit of extra class. With the ball at his feet at the corner of the 18 yard box… a few yards in… Gerrard faked one way with the shot, swiveled on it, and then curled the ball into the far upper corner. It was a sumptuous piece of skill, one that showed that Gerrard was truly back on track after a terrible start to the season.
9) Crouch v. Bolton

The bicycle kick part 2! Peter Crouch showed that his bike against Galatasaray was no fluke, as he flung himself upside down to connect well yet again with a cross floating slightly behind him. He celebrated by flashing the "twice" sign and slid forward in ecstasy. It was a classy, classy goal. One of several beauties he scored in this 2006-2007 season. The build-up from Kuyt and Pennant was quite nice, as well!
8 ) Gerrard v. Middlesbrough

There's something about Gerrard v. Middlesbrough in front of the Kop, and yet another example of this was in 2006-2007. Gerrard won the match with two goals, but his long-ranger against them was definitely the pick of the litter. Bolo Zenden played a nice little pass to Gerrard in space- which was limited, mind you- and Gerrard smacked it deliciously with his right foot low into the far corner in front of the Kop. Total madness insued. What a hit from Gerrard, who was certainly back in form by this point of the season.
7) Riise @ PSV Eindhoven

This one is your definition of punishing a mistake in style. PSV Eindhoven did a poor job of clearing their lines, and their defender kicked the ball straight into the path of Riise, who just had to take a little touch from 30 yards and then BLASTED with his trusty bazooka of a left peg into the top corner. That certainly ended the tie, not to mention the pride of a PSV side who were not just outclassed, but were yet another victim of a John Arne Riise special GET IN, SON!
6) Crouch @ West Ham

Another lovely goal from Crouch in the 06-07 campaign, but this one was simply special from the point of the build up. Alonso had some arrogant touches, the play went through about five players, and Crouch one-timed a shot into the upper corner from 20 yards out. Plays like this are just SO pleasing on the eye, and who better than someone who is 6′7 to finish a chance like that? It just looks different, doesn't it? That said, by this time it was no surprise that Crouchie was able to stick it in. Class player.
5) Riise v. Tottenham

If you were to look up "laser-beam" in the dictionary, this picture would be front and central. Rarely have I ever seen a strike struck from such a long ways out that only hovered a foot off of the ground for the ENTIRE time. To say "what a strike!" would be a massive, massive understatement. It was simply brilliant. In almost any other season, this goal would be a clear "top 3″ type of goal, but 2006-2007 was full of special ones like this. From about 35 yards out, Riise took a rip from almost dead center and made the keeper look completely helpless as it flew into the bottom corner. GORGEOUS hit.
4) Pennant v. Chelsea

What a way to score your first goal for the club. Pennant has had an up and down, but mostly down to be fair, time at Liverpool, but this strike against Chelsea was an obvious highlight. Liverpool had not beaten Chelsea in the Premiership in several seasons, and not yet under Rafa, but with a 1-0 lead things were looking promising. Then things got even more promising as the ball was magnetized to the boot of Pennant, who controlled it nicely, teed himself up, and then struck a glorious right footer off of the laces, over Cech's outreaching fingers, and off of the crossbar and in. A truly magnificent goal, made that much better by the rivalry and the occasion.
3) Alonso v. Newcastle

Dispossesses the ball, takes a few touches, strikes from 60 yards out… GOAL. Enough said, really! Just watch it! The only thing that detracts from it is the unknown if Harper didn't slip. No matter… it was brilliant!
2) Agger v. West Ham

Another player to score a wonder-strike in 2006-2007 as their first goal for the club was Daniel Agger. And what a wonder-strike. "They" said he liked to come forward, but nobody could have expected this. It was the first time that potential of Agger was fully realized. He took the ball from abou the halfway line, started running towards the goal, and nobody picked him up. From about 25 to 30 yards out, Agger let rip with his left foot, curling the ball with incredible pace in "banana kick" fashion, with the ball curling towards the near post upper corner, where it landed PERFECTLY into the apex of the goal frame. It was simply stunning.
1) Crouch v. Galatasaray

If I was to make a list of the top 10 goals in the entire era of my support of Liverpool FC, this would defiintely make the top two or three, right behind Hamann's in 2003-2004. Crouch's bicycle kick against Galatasaray certainly falls in the category of "special." Rarely is a bicycle kick even attempted, and even more rarely is it executed, and more rarely still is it executed beautifully and with precision and accuracy. This kick had everything. Great build up, style points for the way he went for the bike, and then of course the result. The ball didn't bounce, it didn't trickle in, and the goalkeeper couldn't have done better. It was everything you'd want from a goal, and Crouch was so excited about it that he didn't even know how to celebrate! All he could do was cover his mouth, blow a kiss to the crowd, and do this weird gun-into-the-air thing. Hilarious, and what a wonderful memory this goal will always be as a Liverpool supporter. UNSTOPPABLE.
TOP 10 MOST IMPORTANT GOALS
10) Kuyt @ Reading

With the match nodded up at 1-1, and a season that was not known for its late drama, this goal took the cake as far as "late celebrations." Jermaine Pennant's pinpoint and PERFECT cross with his right toe flew across the 18 yard box into the path of Kuyt, who nodded in from close range under the feet (oddly enough) of Hahnemann and into the net, sending your current author into an absolute frenzy of glee. 2-1, and that's how it finished.
9) Fowler v. Sheffield United (both penalties, really)

The match was honestly of very little importance… we were always going to beat Sheffield United at home. We did so in convincing style, winning 4-0. Robbie Fowler scored twice, and they were his last two goals for the club in an incredible career. After the first time Fowler left, there were always regrets that he didn't have a proper send-off. In this case, Rafa allowed for a standing ovation (not in this match, as it happens) and gave Fowler the respect he deserved. These two goals were the last ones from a player who will live in the memory of Liverpudlians as one of our finest ever players, and perhaps our greatest ever finisher.
Fowler Scores for the Last Time as a Red! YNWA!
8 ) Bellamy @ Wigan

The month was December, and Liverpool were yet to score an away goal, never mind not winning a match on their travels. Not only was Bellamy's opener necessary, then, but it was also gloriously taken. He raced through after a fantastic Gerrard through-ball, and curled the ball splendidly past the reach of the goalkeeper and into the top corner. It began an avalanche of goals as Liverpool won the match 4-0. So much for road woes…
7) Kuyt v. Chelsea

In the same match that saw Pennant strike Chelsea with a wonderful shot, Dirk Kuyt scored perhaps our most important goal in the Premiership. Peter Crouch's flick-on was perfect for Kuyt in the 4th minute, and Kuyt controlled the ball marvellously with his head and into the path of his foot, where he cranked on it from about 12 yards past a flailing Petr Cech. The goal was not just nice, but incredibly important. Liverpool had not beaten Chelsea in the league since 2003-2004, and were struggling in the Premiership at the time. It definitely was a bolt against the blue… no pun intended. Okay, it was. Sue me. (please don't.)
6) Crouch Hat-Trick v. Arsenal

Peter Crouch's hat-trick delight against Arsenal wasn't just for poops and giggles. It was in a match where Arsenal were catching Liverpool for the 3rd place position and were just about to get past us if we weren't careful. Over the past few seasons, Liverpool were getting in the habit of winning against Arsenal at home with late drama… but this season the "winning" would continue but without the drama. Crouch scored in the fourth minute, and from there the goals flowed in. We secured 3rd position, and this match was the catalyst for getting back on track.

5) Kuyt v. AC Milan

It is difficult to grant a player's goal as important if the match ends in defeat, but any goal in the Champions League final must be considered important in our club's great history. The goal was surely just consolation, but it did give brief hope with only about three or four minutes of added time left to play. From a corner, Agger's header flew over the Kuyt from three yards out and he powered it past Dida and into the net. Could Istanbul happen again??? Unfortunately not, but Kuyt's goal opened up the possibility.
4) Gerrard @ PSV Eindhoven

Having met PSV Eindhoven in the group stage, we had hardly breezed over them. Though they looked like fairly easy opposition given the alternatives in the quarterfinals, we still had a battle on our hands. It was crucial that we take a goal from the road, and quite early on Steven Gerrard's diving header over the back of Kuyt from nearly 15 yards out gave us that advantage. Finnan's cross was inch perfect for Gerrard, who called off Kuyt and scored an unbelievably strange header. Another European goal for the Gerrard collection! The tie would finish 4-0 on aggregate, but Gerrard's goal got that ball rolling.
3) Crouch v. Chelsea

The Community Shield is not the most important of competitions, but at the time of writing, this Peter Crouch winner gave us the last trophy we have won at the club. At 1-1, and with only about 15 minutes to play, Bellamy's cross was perfectly weighted and played for Crouch to tap-in with his head. Game, set, match. 2-1 and the Reds lifted the Community Shield!

2) Riise @ Barcelona

Not too many people gave Liverpool a chance to beat Barcelona in the Round of 16. When the draw was made, almost everyone and their mom said Liverpool would be knocked out of this stage of the competition for the second year running. When Deco opened up the scoring on 20 minutes, many people felt like their predictions were spot on, and rightfully so. But don't underestimate the mighty Reds! Craig Bellamy pulled one back, and then late into the second half Bellamy turned provider IRONICALLY to Riise (the two were involved in that hilarious karaoke-golf club incident) who smacked in the ball with his unfavored right foot high into the net from about 10 yards out. The goal was brilliant, but more importantly served as the springboard that would get us into the next round. A memorable victory for a club full of great memories!
Riise's Lack of Karaoke is Forgiven by Bellamy. How Touching.
1) Agger v. Chelsea

In about the 10th match Liverpool played against Chelsea in 2006-2007, Liverpool found themselves down 0-1 after the first leg when Joe Cole scored at Stamford Bridge. Liverpool's mission was simple: score at least one goal and don't let Chelsea get one. Daniel Agger was the man for that job, as Gerrard's clever free-kick found Agger running into space at the top of the 18 yard box. Agger struck with his left foot low and curling into the near post corner. It snuck in, and the crowd went totally bonkers. It was sweet revenge after a first leg that did not go so well for Agger. (take a look!)
SIGNINGS AND DEPARTURES
Signings:
The summer of 2006-2007 was an unfortunate one. Other than Dirk Kuyt and Fabio Aurelio, Rafa signed a host of players that would ultimately not make the grade. Craig Bellamy, Jermaine Pennant and Mark Gonzalez were the three most obvious examples of this, as both showed much promise at times, but failed to impress during most matches. The idea was that the side needed more pace and creativity, so the signings at first looked like very good upgrades and that they would provide excellent options from either the bench or from the starting lineup. Sadly, these ideas never materialized into satisfactory results on the pitch and both Bellamy and Gonzalez would only last the one season with the club.
Dirk Kuyt and Fabio Aurelio, however, were class acts. Aurelio's season was hampered by injuries, unfortunately, but he has been a fairly decent player for us over the years. And Dirk Kuyt's contribution, though not always spectacular, has been stellar.
The winter saw some of our better signings in 2006-2007… perhaps our best January transfer window we've ever had. Rafa took in Javier Mascherano from his West Ham nightmare and also Alvaro Arbeloa from Deportivo La Coruna. Both would become mainstays in the club and have remained that way now for 2 and half seasons.
Departures:
The summer of 2006 saw "Rafa the Ruthless" at it again. He shipped out a lot of dead wood over the summer and made some fairly difficult decisions. Following a successful season in 2005-2006, Rafa shipped out only one player that the fans would genuinely miss… Dietmar Hamann. Hamann had an incredibly successful career for the Reds, but it was clear that his time was up and that the pace of the game was moving past him a little bit. I loved Didi, but I totally agreed with this decision. Then there were the true dead wood departures in Bruno Cheyrou, Djimi Traore, Jam Kromkamp, and my personal highlight… Fernando Morientes. Rafa appeared to be chopping out players he brought in as WELL as those he had inherited. This was the sign that he was becoming quite ruthless in his decisions. He also loaned out Djibril Cisse despite Cisse's 19 goals in the previous season. Cisse had been a decent enough goal scorer, but the problem was in the tactical unawareness, which is something that Rafa does not tolerate.
In the winter, more players followed Cisse and company out of the door. Stephen Warnock was allowed to leave to get more first team football (which was disappointing to everyone, but understood due to the nature of his wish to play more. "good luck to him" was the thought on most people's minds) and Salif Diao, Chris Kirkland, and Florent Sinama Pongolle also followed out of the door. It was for the best for the club to make upgrades and to dismiss these lesser quality players. They may have all had their own brief individual moments (minus Diao, really) but they needed to leave.
TOP 5 PLAYERS
5) Daniel Agger

The young Dane was making a name for himself in the 2006-2007 season at central defender with great goals and many assured performances in the back with Jamie Carragher. He was fully displacing Sami Hyypia from the starting lineup at this point, and was perhaps our most consistent performer throughout the entire season. Agger's ability to bring the ball forward was a new feature to our play, and added a bit of offensive firepower to our club. The goal he scored against Chelsea in the Champions League semifinal 2nd leg alone could nearly earn him this honor, but he had deserved it with other displays throughout the campaign.
4) Dirk Kuyt

Though Kuyt did not score as many goals in 2006-2007 as people had anticipated, he was tireless in his work rate and seemed to score in matches where we didn't look like we could find the net… often against weaker opposition where we made it look more difficult than it needed to look. Scoring in the Champions League final was the icing on the cake in a season where the cake needed some icing!
3) Steve Finnan

Steve Finnan may not be our most heralded player in our history, but he had about four seasons of consistency where he continually made our side better both on the attack and defensively. For the first time since Rob Jones in the mid 90s, Liverpool could finally say that right-back was no longer a problem position. With Finnan, you knew you'd get fantastic crosses, a player who would provide excellent options, and would get back in time to make the defensive play. In 2006-2007, he perhaps had his most consistent season… which is saying something given how consistent he was in all of his other seasons, as well!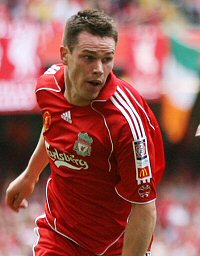 Steve Finnan: Mr. Consistency
2) Steven Gerrard

Steven Gerrard's form in the second half of the season was brilliant, but unfortunately it took him a long time to get going. He and Carragher in particular seemed to struggle to brush off the penalty misses in the 2006 World Cup, and it just wasn't happening for them. By November, however, Gerrard started to find his form and produce the goods. He was his usual self by then, steamrolling through the opposition and dictating play. Unlike many players, though, a dip in form did not mean he was all of a sudden not producing. It was just that we had all grown accustomed to Gerrard being one of the best in the world rather than just one of the best in the country.
1) Peter Crouch

Peter Crouch had a fabulous 2006-2007, scoring 18 goals and was our leading goalscorer by a clear margin. He was the leading scorer in the Champions League with 7 goals, and scored some fantastic strikes along the way. Hat-trick against Arsenal, towering headers, bicycle kicks… you name it, Crouch provided it. He was definitely the "memory maker" of the 2006-2007 season. At the end of the season, I bought a Liverpool kit. The name? CROUCH. He was magnificent for us.
TOP 3 FLOPS (where do I start in 2006-2007???)

3) Momo Sissoko

After a very promising 2005-2006 campaign, much was expected from Momo Sissoko. But he just didn't bring the same energy in 2006-2007, and his lack of quality and ability on the ball made him a bit of a liability. In 2005-2006, we could get away with that because of our defensive quality, but in this season we were not quite as solid, and Xabi Alonso was also not having that great of a season. Once we got Mascherano, the writing was on the wall for Sissoko.
2) Craig Bellamy

Craig Bellamy had been brought in to provide pace, creativity, and a player who would link up very well with our attacking unit. Though he did chip in with a couple of goals, Bellamy usually found himself being offsides, missing easy chances (Tottenham from two yards, anyone?), and swinging golf clubs at his teammates. Let's just say it didn't last. Quality player, but a bit of a headcase and just not consistent enough.
1) Mark Gonzalez

Mark Gonzalez is one of the bigger let-downs I can think of when I look back at signing-hypes. The problem was that he was a bit of a "youtube player," meaning that his actual 90 minute performances did not match up whatsoever with the 3 minute career highlight reel. Usually players don't have the ability to match it perfectly, but at least you can see promising signs. With Gonzalez, he might have been fast, but his shots were often wayward, his passing and touch were DREADFUL, and he had a very poor sense of tactics, positioning, and defensive responsibility. An overall waste of talent (I guess) and pace… but especially a waste of money and time.
STATISTICS
Top Goalscorers in All Competitions:
Crouch- 18
Kuyt- 14
Gerrard- 11
Bellamy- 9
Fowler- 7
Luis Garcia- 6
Riise- 5
Biggest Win:
(away) 4-0 over Wigan Athletic
(home) 4-0 over Sheffield United
Biggest Loss:
(away) 0-3 @ Everton
(home) 3-6 v. Arsenal (LC)
Games Played/Won/Clean Sheets/etc.:
Played: 58
Won: 32
Drawn: 10
Lost: 16
Clean Sheets: 28
Goals Scored: 90
Goals Conceded: 52
FINAL STANDINGS
League- 3rd with 68 points
Champions League- 2nd place. Lost to AC Milan 2-1 in the Final.
FA Cup- knocked out in 3rd round by Arsenal 1-3
League Cup- knocked out in 5th round by Arsenal 3-6.